Collection: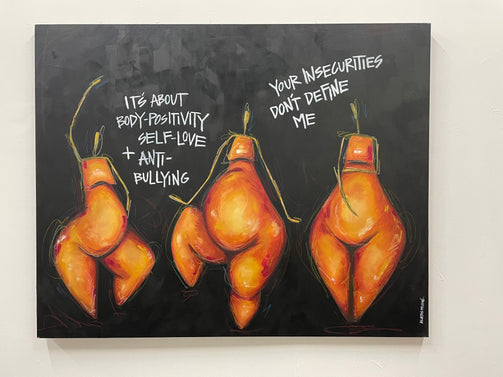 Collection:
Sitting Plenty Large
Sitting Plenty Large
Regular price

Sale price

$0.00
Auction for this artwork ended March 2 2021 12pm EST
Estimated price: $2,500.00 USD - $4,000.00 USD
Size: 48" x 60"⠀(Oil and acrylic on canvas)
My "Sitting Plenty" Series is about body-­‐positivity, self-­‐love and anti-­‐bullying.  While physical health and fitness is  important, I believe mental health is a bigger issue that is often overlooked by society.  

I remember very vividly being bullied in middle school because my body wasn't fully developed like the other girls.  Being treated as an outcast made me feel insecure.  It took me years to become comfortable and confident in my own skin.  

Through my art, I aim to raise awareness  of how we perceive others,  and to be mindful not to bully or project negativity toward anyone regardless of their appearance.