Collection: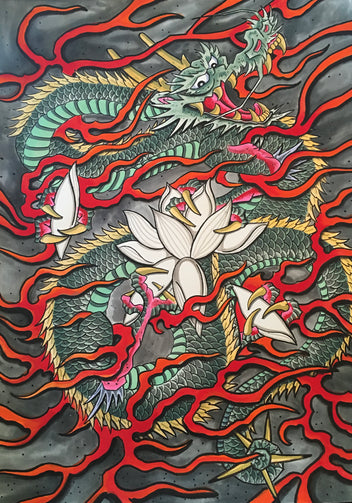 Collection:
The White Lotus
The White Lotus
Regular price

Sale price

$0.00
Auction for this artwork ended March 2 2021 12pm EST
Estimated price: $10,000.00 USD
Size: 22" x 30" (Guache and ink on 140lb cold press paper)
"The White Lotus" is a depiction of a lotus; a flower that blooms most beautifully from the deepest and thickest mud, being torn to pieces by a dragon.
Beginning life as a koi fish with enough strength and perseverance to swim upstream and through the rainbow gate, dragons themselves are transformative beings. 
Dragons are seen as the protectors of mankind, symbolizing supernatural power, wisdom, strength,  hidden knowledge and In most traditions, embody chaos and untamed nature.
The dragon moves the tide,  conjuring up storms, bringing great winds of change , whose necessity is only understood by nature and the supernatural. 
The Dragon's expression is meant to be playful, and express the sentiment that no matter how painful, it is for your own good. 
Every night as it enters darkness the lotus finds its sanctuary in the muck, protected, its beauty unaffected as it sleeps awaiting it's opportunity to rebloom each morning.
The White Lotus is a reminder of the daily journey we have embarked on is continuous life, death, and rebirth
⠀⠀