Collection: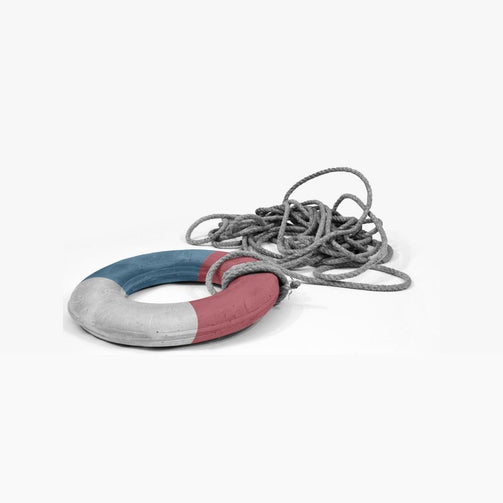 Collection:
Pushing Rope and Other Poor Choices
Pushing Rope and Other Poor Choices
Regular price

Sale price

$7,000.00
Auction for this artwork ended March 2 2021 12pm EST
Estimated price: $5,000.00 - $8,000.00 USD
Size: 24"x 180"x 3" (Concrete and line)⠀⠀⠀⠀⠀⠀⠀⠀⠀⠀⠀⠀⠀⠀⠀⠀⠀⠀⠀⠀⠀⠀⠀⠀⠀⠀⠀⠀⠀⠀⠀⠀⠀
I have "cast" concrete flotation devices that maintain a permanent inflatedness. Yet this construction, intended to preserve and venerate their purpose, is the very thing that reverses it – they sink rather than save. The inquiry that's consumed me over the past five years is: How do we sustain what matters most without undermining our intention? For me, the concrete preserver anchors this question in the pandemic, and in the political, economic, and environmental campaigns of our time, and it also turns the examination inward, to our individual ambitions under the stresses of the current global climate. The contradictions in the answers are the poetry of human potential, a vision for art's ability and for our generation's ability to make individual, societal, and cultural change. In the center is the measure of human life.

Making these concrete preservers in the studio is like plotting some action or revolution. Casting each one, I live and negotiate the contradictions – the things that do not go together yet must: solitary and universal, abundance and scarcity, the real and the unreal, the fight against the abstract part of art (the not visible), and the fight against the part of me that does not want to change.